The Slide N' Fit
Sink & Vanity
Base Protectors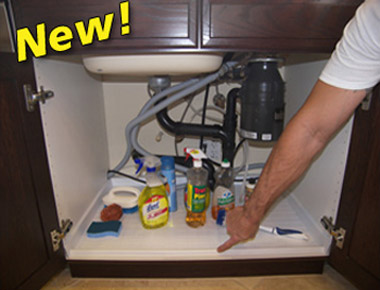 Helps protect cabinets from all plumbing leaks: waste pipes, water filtration systems, H&C supply hoses, angle stops, dishwasher water supply and drain hoses, and garbage disposals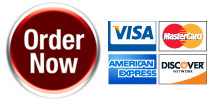 "Every home should have a Slide N' Fit to protect from water leaks!" - Jean B., St. Louis, MO
Endorsed by homeowners, landlords, contractors and sub-contractors worldwide.
Protected by U.S. Patent # 7757705 B2, 7735510 B1
The Slide N' Fit Sink & Vanity Base Protector™ is manufactured out of styrene making it both flexible and extremely durable while also mold resistant. It has been specially designed to fit most all standard and custom kitchen and bathroom cabinets including island sink cabinetry. *Limited 1 Year Warranty.
"Just received the four sink (and vanity) protectors I ordered and found them incredibly easy to install — since I don't plan to remove them I used some white silicone caulk around the edges to make them truly watertight (in all my sinks there are valves just a little too close to the edge for comfort — but this was my choice to be extra thorough) — in any case, IMHO, your design is great and the material really does look like it will last for literally decades." Malcolm, FL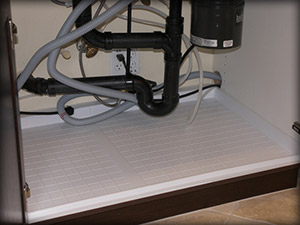 Helps protects cabinets from all plumbing leaks, ie. waste pipes, water filtration systems, H&C supply hoses, angle stops, dishwasher water supply and drain hoses, and garbage disposals.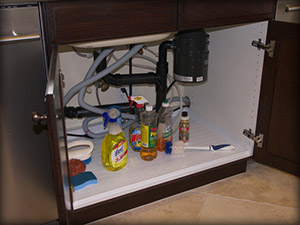 Protects customers cabinets from cleaning supply spills.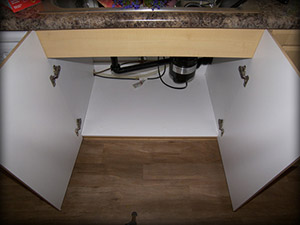 Without kitchen Pan - the melamine and cabinet are subject to damage.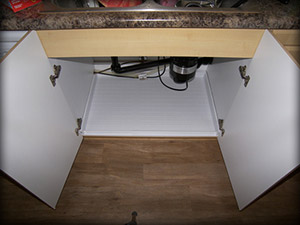 With kitchen Pan - the melamine and cabinet are protected.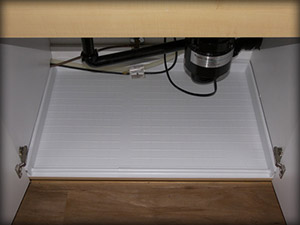 Close-up of Slide N' Fit kitchen pan.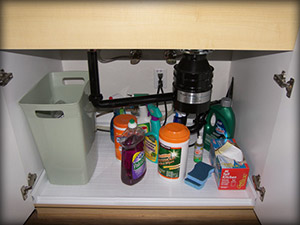 All items fit normally. Cabinet base is protected from spills.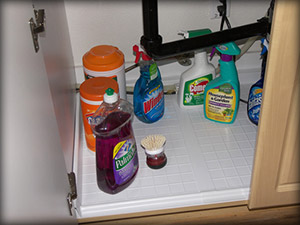 Cabinet doors close easily.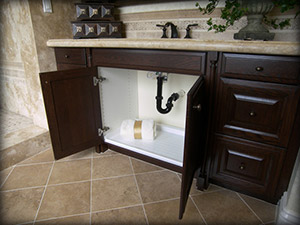 Bathroom version of Slide N' Fit.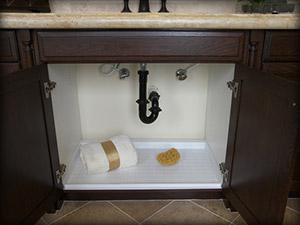 Another view of the Slide N' Fit bathroom pan.
*Limited 1 (one) Year Warranty
If your DRIPTITE Slide N' Fit pan (part) fails because of a manufacturing defect within one (1) year from the date of purchase, we will provide a new part at our option, without charge. Return the defective part directly back to the manufacturer at - DRIPTITE, 25422 Trabuco Rd., Suite 105-622, Lake Forest, CA 92630 - with a copy of the "proof of purchase". If the part is defective it will be exchanged. This warranty does not cover parts that are improperly installed, damaged, abused or used for other than the intended purpose. It does not include the cost of returning the part to the vendor from which it was purchased, the labor to remove, install or diagnose the failure, parts used in commercial applications, and incidental or consequential damage caused by possible defects with the parts.
Disclaimer: This product is not intended to prevent serious flooding from the plumbing under sinks. It is designed to handle minor plumbing drips and leaks that occur with 'normal' sink usage. Improper installation voids warranty. Cutting of pan voids warranty.