UNBREAKABLE
Dishwasher
Floor Saver Pan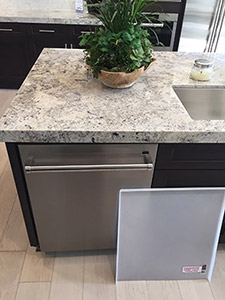 Specially designed to fit ALL Dishwashers!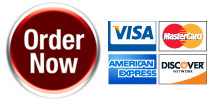 One size fits all!
Ideal for Homes, High Rises, Condos, Apartment Buildings and More.
Protected by U.S. Patents Pending.
The DRIPTITE Dishwasher Floor Saver Pan™ is made of an UNBREAKABLE, translucent, thick polyethylene plastic that is UV ray protected, making it tough, extremely durable and truly life-long. It is specially designed to fit all standard dishwashers and protects expensive floors from undetected leaks. The DRIPTITE Dishwasher Pan protects cabinets, subfloors, basements, and house structure from water damage by channeling water from a leak to the front of the dishwasher so that immediate repairs can be done.
Backed by our 10-Year No-Break No-Crack Warranty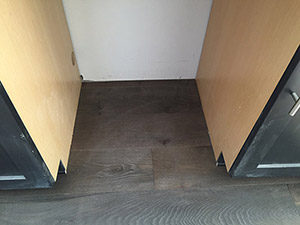 Step 1 - Remove your dishwasher and set it to one side. Make sure to clean up any water or mold from water damage, as well as any debris.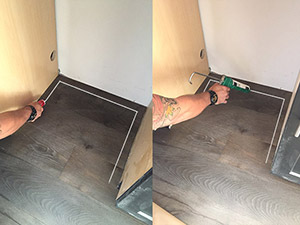 Step 2 - Squeeze a bead of DAP or silicone approximately 2" in from the edge of the dishwasher space. Alternatively, you can apply it directly to the bottom of the Dishwasher Pan, approximately 2" in from the sides.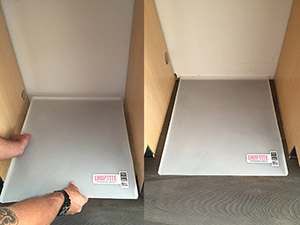 Step 3 - Insert the Dishwasher Pan in the space. Make sure you install the pan approximately 1/2" from the back wall. Use a tape measure to be sure you are centering the pan correctly.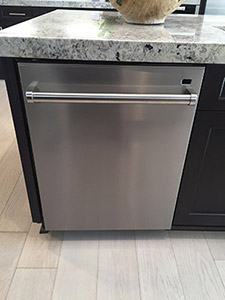 Step 4 - *Note: Let the Pan sit for 24 - 36 hours before re-installing your dishwasher again. This will allow for the DAP/silicone to set up and dry. Then re-install your dishwasher, and your home is protected by DRIPTITE!